The Israeli government's newly approved inquiry commission may not have even begun investigating the attack on the Gaza-bound aid ship, but the results of the inquiry are already plain, according to Prime Minister Benjamin Netanyahu.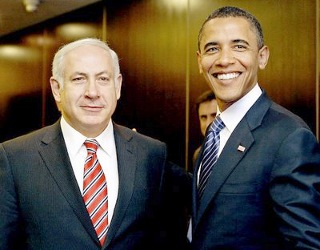 Netanyahu promised that the probe would "make it clear to the world that Israel is acting legally, responsibly, and with complete transparency." The Israeli government has blocked an independent international probe, claiming it would be unfair.
Instead they have offered their own probe as proof that the matter is being looked into, though the government insists that it won't investigate the behavior of the military in killing nine aid workers, and the universal approval of the killings by government officials makes the results essentially a foregone conclusion.
After initially claiming the aid workers used bats against the troops, Israel has twice revised its story, first claiming that 50 Turkish soldiers were on board and later changing it to 75 "al-Qaeda mercenaries," though none of the people on board were ever charged with any crimes.
Whichever story Israel decided to present in its final probe, however, the US State Department has promised to be ready with a rubber stamp for it, insisting that the US will "stand by" the Israeli probe as "credible" and "impartial."