Just over two months after the Bakiyev government fell in the face of massive protests, new protests have erupted in the south, where much of the population remains loyal to the ousted Bakiyev.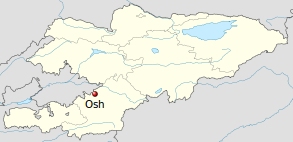 The interim government in Kyrgyzstan has announced a "state of emergency" and is dispatching the military against protesters in the south, where violence has already killed at least 65 people and wounded over 850 others.
In many ways the new protests are the continuation of the civil war that erupted in April, only to quiet down for a few weeks.
It is a battle of politics, the pro-US Bakiyev versus the decidedly more Russia-linked interim government, but it is also a battle of regions, north versus south, and a battle of races, between the Kyrgyz majority in the north and the Uzbeks who live in the southwestern region.
Bakiyev may be gone, hiding in Belarus and hoping to avoid extradition, but he is not forgotten. His brutal crackdown on the Kyrgyz people in Bishkek looms large, as does the violence against the minorities in the city, which began as soon as Bakiyev was ousted. Passions run equally deep on both sides, and there seems to be no middle ground.
The protesters in the south are raising what amounts to a rebel force, hoping to topple the interim government and install one more favorable. But protesters are also taking to the streets of Bishkek, raising up a force of their own, and hoping to march into the south to attack the protesters down there. More violence seems inevitable, with no end in sight.