Speaking just days after his resignation, former Afghan Intelligence Chief Amrullah Saleh says he believes President Hamid Karzai has lost faith in the ability of the US-led occupation forces, as well as his own security forces, to defeat the Taliban.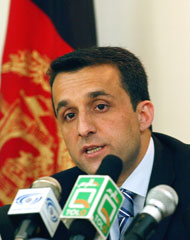 Saleh was largely mum about his resignation, or the reportedly hostile conversation with President Karzai that led to it, but expressed concern that Karzai is "out of step" with the international forces attempting to prop him up.
He also said he was "deeply concerned" that Karzai has recently gotten out of the habit of issuing public condemnations of the Pakistani government and accusing them of being in league with the Taliban.
Saleh also revealed that, in the weeks leading up to the peace jirga and his resignation, he deliberately tried to undermine Karzai's efforts to reconcile with the Taliban, saying it was a "disgrace" to negotiate with the Taliban at all.