Update: While the Israeli military's statement does not make this clear at all, a second American citizen is on their list of five "confirmed terrorists" on board the Mavi Marmara. Fatima Mohammadi, a lawyer from the Chicago area, was accused of transporting "banned electronic components" to Gaza, which given the extent of the blockade could be anything from a laptop computer to a cellphone with an unusually good camera. Mohammadi is listed by Israel as an "Iranian" but CBS news in Chicago makes it clear she is an American citizen. Mohammadi was released without charges and other than a bruise from the butt of an Israeli rifle hitting her arm was apparently unharmed. She is already back in Chicago.
—
Israel's convoluted claims of secret terrorists being on board the Gaza-bound Mavi Marmara aid ship, despite no one being charged with any such crime, took a leap forward today when the Israeli military decided to name names.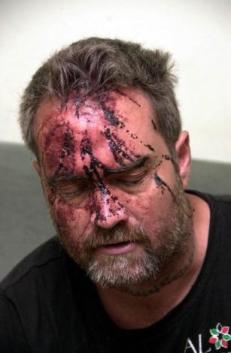 Among the official "terrorists" named by the Israeli military but mysteriously already released was US citizen and long-time antiwar activist Kenneth O'Keefe, who the military claimed was plotting to "train and establish Hamas commando units."
O'Keefe, a former US Marine and veteran of the first Gulf War, may be remembered by some as the leader of a group of antiwar protesters who went to Iraq in early 2003, ahead of the US invasion, to organize the Human Shield Action to Iraq.
O'Keefe and some 80 other non-violent activists stayed in Baghdad throughout the initial invasion, holding positions in Iraqi orphanages and hospitals in an attempt to prevent them being attacked by the invading troops. None of the protesters were injured, and none of the sites they protected were attacked.
Since leaving the US military O'Keefe has been an outspoken advocate of non-violent protest. He was injured while in Israeli custody, reportedly after being beaten in detention, and is now in an Istanbul hospital recovering.