Once Israel's closest ally in the region, the Turkish government has reacted with fury at last night's Gaza aid ship massacre, condemning it as 'inhuman state terror.'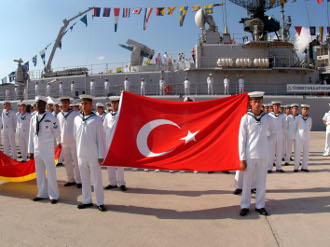 The attacked ship was Turkish in origin and at least two of the slain aid workers were Turkish citizens. Turkey says future aid ships will be dispatched with a military escort so as to prevent future Israeli attacks.
Turko-Israeli relations have been on the decline in recent months, including a staged photo-op by the Israeli Foreign Ministry designed to shame Turkey's ambassador. Israel also reportedly arrested a Turkish citizen weeks ago for being a member of a humanitarian group involved with the aid ship.
Israeli officials have defended the killings as "self defense," claiming the aid workers were secretly in league with al-Qaeda. A top Israeli investment house has also called for a divestment from Turkey to protest Turkey's criticism of the massacre.