Five US troops were reported killed this morning by a suicide bomber in Kabul, bringing the total number of American soldiers killed in Afghanistan since the 2001 invasion to over 1,000.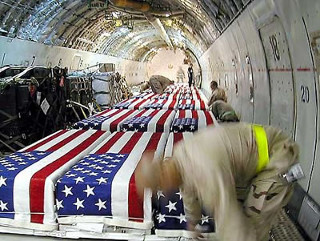 If the story sounds somewhat familiar, it is because some media outlets falsely reported the 1,000 mark being passed in February. That number was in fact the number killed in "Operation Enduring Freedom" (OEF), a blanket term covering the Afghan War and several other little discussed wars since 2001. The total OEF number is now 1,079.
The 1,000 figure by itself tells only part of the story however, and doesn't reveal just how rapidly the death toll has risen in recent months.
The first 500 US troops were killed between late 2001 and September 1, 2008. This was a period of about 83 months. The second 500 troops were killed from that period today, which was just over 20 months.