After nearly a solid week of escalating violence the Thai military has begun what is believed to be its final assault on the "Red Shirt" protesters in Central Bangkok.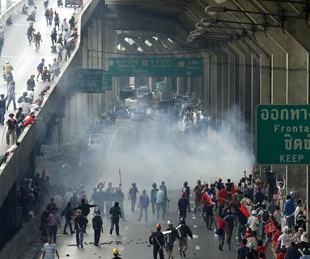 Troops in armored personnel carriers stormed into the area with machine guns, and helicopters loomed overhead. Exactly how many of the once 10,000 strong protesters remained in the area for the assault was unclear, but they are all targets at this point.
Prime Minister Abhisit has demanded that the protesters, mostly the rural poor who oppose his government, return to their homes, and officials in his government have referred to members of the protest as "terrorists" over the past few days. Dozens of protesters have been killed in the recent crackdown.
Abhisit came to power in 2008, after mostly urban protesters ousted the Somchai government. The Red Shirt protesters generally look favorable on Somchai, and also former Prime Minister Thaksin. The lesson Abhisit seems to have learned from the 2008 protests was to crush them before they get out of hand, and it seems that is what is about to happen.