Last Updated 5/15 5:00 PM EST
The rising tensions resulting from yesterday's attempted assassination of the Red Shirt protesters' security chief, General Khattiya Sawatdiphol, appears to have boiled over as troops opened fire on the demonstrators in the capital city of Bangkok.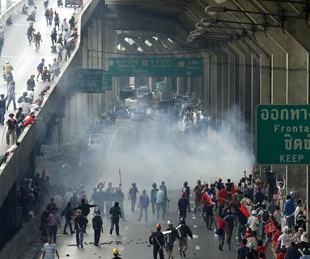 At least 24 people have been killed in fighting across the city, including three journalists, and some 211 others have been wounded in the fighting that broke out late last night and has continued throughout the day.
As the violence has escalated, several of the protest leaders are said to have resigned, and those that are left are pleading for a ceasefire as the military escalates its use of firepower against the surrounded protesters.
Officials for Thailand's government predicted that the military would put an end to the protests "very soon" and suggested normalcy could return to the capital in a matter of days. Prime Minister Abhisit added that the only way the loss of life would end was for the protesters to abandon the protest.
This normalcy might be short-lived, however. The current Abhisit government came to power in 2008 with their own similar protests, which ended with the ouster of the Somchai government. These protesters are largely supporters of Somchai, and of Thaksin Shinawatra. Even if the military manages to crush the protests for now the tensions between the urban supporters of Abhisit and the rural suppoters of Thaksin will linger, and more confrontations are virtually inevitable.