Pakistan's military today rejected the suggestion that the Tehreek-e Taliban Pakistan (TTP) were responsible for the failed Times Square bombing attack, saying that they don't have the capacity to hit the US mainland.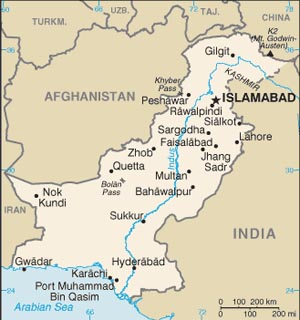 At the same time attention has focused on one of several Pakistani groups. If not the TTP, than either the Jaish-e Mohammed (JeM) of the Lashkar-e Taiba (LeT) are being presented as possibly behind it.
Whatever the case, Pakistani Foreign Minister Shah Mehmood Qureshi is openly describing the attempt as "blowback," saying that it was a predictable retaliation for the countless US drone attacks against the tribal areas of Pakistan.
The TTP, for its part, has denied responsibility, though an earlier audiotape alleged to be from one of their top leaders said the exact opposite.
The timing is particularly awkward for US-Pakistani relations, which had just finally seemed to come to a level where the US was satisfied with the number of wars Pakistan's military was fighting. In the wake of Times Square, it is widely expected that the US will press Pakistan to launch even more offensives, and will probably escalate its own drone strikes yet again.