Diplomats are today confirming that Iran has agreed to allow the International Atomic Energy Agency (IAEA) certain additional access to the Natanz enrichment facility, something which the IAEA first requested in February.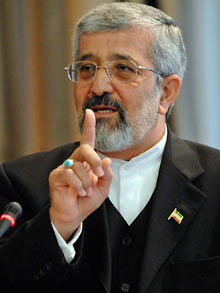 "We have agreed to make sure that the legitimate, technically-justified requests of the IAEA are fulfilled," said Iranian envoy Ali Ashgar Soltanieh.
Other diplomats complained that Iran didn't give in to every single request of the IAEA in this regard. Still, most agree that Iran gave in on the most important concessions, which would allow the IAEA a much easier time of continuing its certification on non-diversion of materials.
The requests are based on Iran's February move to begin enriching some uranium to 20 percent. Previously they had only produced 3.5 percent, intended for use in a Russian-built energy generation plant at Bushehr. The 20 percent uranium is aimed at producing fuel for the Tehran Research Reactor, an aging US-built producer of medical isotopes.
The production of the 20 percent uranium is frequently cited as a reason for the US to push for additional sanctions, but the IAEA has insisted that only minimal uranium has been enriched to this level and they continued to certify that it is not being diverted. Iran has offered to abandon this production if it is able to secure a supply of fuel for the reactor from abroad.