Setting the stage for what many fear will be a civil war, ousted Kyrgyz President Kurmanbek Bakiyev today dared the interim government to attempt to arrest him, vowing that "there will be blood" if anyone moves against him.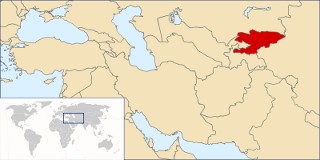 Of course there already has been blood, as the opposition protests which ousted him last week grew to their most intense level only after the Kyrgyz police opened fire on protesters, killing 81 of them.
After Bakiyev fled the capital city of Bishkek his future was uncertain. He has refused to resign but at the same time has no real power outside of his home town of Jalal Abat.
But yesterday Bakiyev called on the United Nations to invade the nation on a stabilization mission, one which presumably would return him to power. The interim government has taken this comment as a fairly serious threat (despite the virtual impossibility that the UN would actually do so) and suggested that Bakiyev might have to be arrested.