The new government of Kyrgyzstan, installed yesterday evening after ousting US-backed President Kurmanbek Bakiyev, today thanked Russia for the support provided in their uprising, but suggested that the "status quo" on military bases would remain for the time being.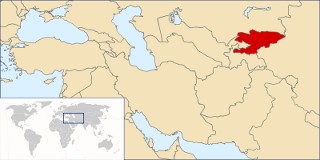 Comments from the new government seemed to fly in the face of those made by top Obama Administration official Michael McFaul, who pointedly denied that the Russians had anything to do with the regime change and insisted that the US and Russia were in talks aimed at calming the situation.
But Russia has already recognized the new government, while the US has simply said it remains unclear who is in charge. Russian PM Vladimir Putin has spoken directly with the new de facto leader, former Foreign Minister Roza Otunbayeva, and pledged to supply Russian humanitarian aid to the nation.
Both Russia and the United States have military bases in the small nation, a comparative rarity for the two major powers. The US recently secured a new lease on the Manas base from Bakiyev, though it came with a major increase in rent.
But the US has had to curb flights out of Manas, and some members of the new government suggested earlier in the day that the base might have to close sooner. Otunbayeva seemed to attempt to reassure the US about the base, however, and suggested that they could remain, pending the consideration of "new issues."