Kyrgyz Foreign Minister Kadyrbek Sarbaev is scheduled to arrive in Washington today for annual talks with the Obama Administration, but when he lands he will have found many things have changed: the government, for one.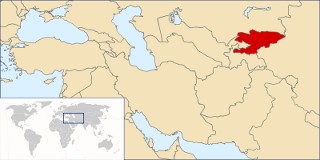 The protests were already growing and the police were trying desperately to crush them when Sarbaev left, but yesterday afternoon the protesters appeared to have decisively won, ousting the US-backed government and installing a "caretaker" government in its place.
The new de facto leader of Kyrgyzstan, former Foreign Minister Roza Otunbayeva, says she has already appointed interim defense and interior ministers, and that the new government would hold elections within six months time.
Though police loyal to ousted President Bakiyev had shot many protesters, killing as many as 100 by some reports, the Kyrgyz military declined to get involved and seems now to be under the control of the rebels. Bakiyev has fled to the nation's rural south, where he retains some measure of popularity, and has refused to admit defeat.
Despite having removed Bakiyev, the violence does not appear to have ended, however, and shootings are still being heard across the capital city of Bishkek overnight. The small nation is particularly important strategically as it houses both US and Russian bases.
But while the US State Department propped up Bakiyev in the 2005 Tulip Revolution and the Russian government has reportedly been aiding the Otunbayeva-led rebels, top Obama advisor Michael McFaul dismissed the notion of it having serious ramifications, insisting "this is not some anti-American coup. That we know for sure."
Otunbayeva and many of the other leaders of the new regime have past ties with the US as well, and Otunbayeva said it was premature to comment on the future of the US air base in Manas, a key supply route for the Afghan War. Still with Russia pledging aid to the new government and the US suspending flights out of Manas, its future seems very much in doubt.