Reports have emerged over the past few weeks that Israeli reporter Anat Kam has been held under secret house arrest in the nation since December of last year, but the reports have been confined to the Western media as, despite the story appearing in papers the world over, the Israeli government had forbidden domestic media from reporting on the matter until today.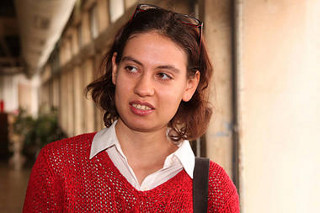 Kam is facing charges of "treason" for leaking copies of classified military documents to Uri Blau, a reporter for Haaretz who has often been critical of the Israeli military. Blau has written several stories over the past few years, mostly based around the Israeli military flouting orders about rules of engagement by the High Court, based on the documents. One of the articles involved an "arrest" mission that ended in the deaths of three Islamic Jihad members. Soldiers admitted in the classified data that they were ordered to kill, not arrest the three.
Blau has since fled the country and is said to be in Britain. Haaretz has defended publishing the stories and says it will support Blau in the matter. The Israeli Justice Ministry has vowed to use "all possible" means to return Blau to Israel to face charges of his own and interrogation by Shin Bet. Shin Bet declared today that Blau must submit to interrogation, and that his possession of classified data is a "direct threat" to national security.
But this could be just the beginning of the fallout for Haaretz, a popular leftist newspaper in Israel which often publishes articles critical of government policy. One opposition MP has urged patriotic Israelis to cancel their subscriptions to the paper. Another MP in the ruling coalition, National Union's Michael Ben-Ari, has called on the Interior Ministry to close the newspaper down entirely in the name of national security. Yisrael Beiteinu MP David Rotem called for Kam and potentially others involved in the leak to have their citizenship taken away. Other members of the Israeli parliament condemned the paper as "anti-semitic" and alleged that the leaks were a plot by the ideological left to see Israel handed over to "the Arabs."
Haaretz for its part claims to have had a secret deal with Shin Bet allowing them to reveal the data, but says Shin Bet has since broken the deal by attempting to capture Blau. It has defended Kam's actions as that of a whistleblower and even published an article likening censorship in Israel media to that in Iran.