The growing Kyrgyz uprising against the government of President Kurmanbek Bakiyev appears to be well out of the security forces' control, as despite police killing upwards of 100 protesters the demonstrations continue and seem to be accelerating.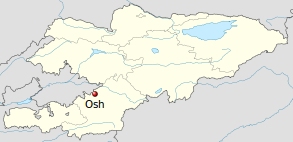 The rebels are now said to have seized the internal security forces and are setting up a government of their own. One key opposition leader, former Interior Minister Keneshbek Duishebayev was sitting in the office of the chief of the National Security Agency, the nation's KGB successor, and promised to soon restore order. Former foreign minister and opposition MP Roza Otunbayeva has reportedly been appointed the president of the rival government.
President Bakiyev is said to have fled the capital of Bishkek and relocated to Osh, along with the defense minister. The interior minister is missing and rebels say he has been killed.
Bakiyev came to power in 2005 as part of the State Department funded Tulip Revolution. Growing allegations of corruption against Bakiyev have led to protests, and the president's attempt to crush the protests by closing newspapers and radio stations fueled even more discontent.
Many of the rebels include former members of the Tulip Revolution who have become disillusioned with the Bakiyev government. Former Prime Minister Almazbek Atambayev and former parliamentary speaker Omurbek Tekebayev have both been arrested and accused of playing a role in the uprising.
The US reports that the military base at Manas, a key supply route for the Afghan War, has not been effected by the latest revolt. Exactly where the US stands on the situation beyond that is unclear, but the Obama Administration was reportedly irked at Bakiyev for attempting to close the base in 2009.