Chechen rebel leader and self-styled "Emir of the Caucasus Emirate" Dokka Khamatovich Umarov issued a video today claiming credit for the Monday bombing of a Moscow subway, an attack which killed at least 39 people.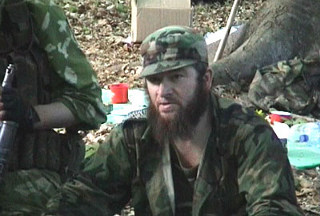 Umarov said the attack was retaliation for Russian military violence in the Caucasus and promised more attacks in the future. The attack was carried out by female suicide bombers and was one of the deadliest in years in the Russian capital.
Just hours after the threat was made, suicide bombers attacked in the Caucasus region of Dagestan, killing at least 12 and injuring 28. Russian officials say they can't rule out this attack as being carried out by the same group.
Umarov became the most important militant among the Chechen rebels since the 2006 deaths of Abdul-Halim Sadulayev and Shamil Basayev. Though he has denied any explicit link with al-Qaeda he has expressed support for Muslim militants in Iraq, Afghanistan, and elsewhere in fighting against Western nations.