The G8 summit in Canada today focused primarily on US and Western nations pushing for Iran, a push that ended with the usual American confidence that the whole world was suddenly on board and the usual indications that this was far from the case.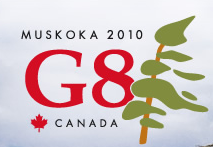 The Canadian government started the push by demanding that the United Nations issue more sanctions against Iran until the nation agrees to entirely abandon uranium enrichment. The call then devolved into the usual US and Western calls for sanctions, with President Obama demanding that such action happen in "weeks."
The net result was what such talks usually see: eager support from Western nations who were already on board for the sanctions and indications that both China and Russia remain far from the Western position.
IAEA chief Amano Yukiya also chimed in, reiterating that Iran was not in compliance with the additional protocol to the safeguars agreement, something Iran insists it never formally ratified. But Amano also seemed to caution against sanctions, warning that the tension could make matters more difficult for inspectors.