Pakistani warplanes attacked a number of sites in the Orakzai Agency today, including a mosque, a school, and a religious seminary, killing 61. Security officials initially labeled all 61 "suspected militants," though locals later conceded that a great many of them were actually innocent civilians.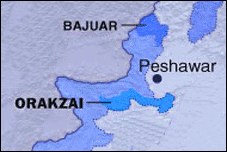 The bulk of the casualties came when planes bombed Tableeghi Markaz, a seminary belonging to the pacifist missionary group Tableeghi Jamaat (Society for Spreading Faith). Pakistani officials say they had reports that Taliban commanders may have been at or near the seminary at the time of the attack, though they have yet to confirm if anyone other than the scores of civilians inside were actually killed.
Some 48 people were killed in the Markaz, and dozens wounded. The number may yet rise further as the seminary was said to be packed at the time of the attack. The two other strikes hit a mosque and a school which officials also believed were "Taliban hideouts," killing 13 others.
Pakistan has vowed an offensive against Orakzai for weeks after its invasion of neighboring South Waziristan failed for net any Taliban leaders and officials speculated they had all moved to Orakzai. So far they have not killed or captured any major leaders in Orakzai, either, though as today's bombings demonstrate the offensive is certainly causing havoc for the residents of the region.