24 hours of high profile bombings in Pakistan have left at least 71 people killed and another 188 wounded across the nation. The bulk of the casualties came in a pair of bombing attacks against an army convoy in the city of Lahore on Friday.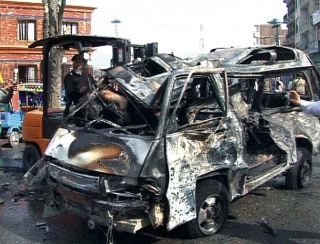 The Lahore blasts killed at least 57 people and wounded another 136. 12 of the slain were said to be Pakistani soldiers and the rest were bystanders. With Lahore residents already alarmed by these attacks, another series of smaller explosions happened in the business district. Though the later explosions caused no casualties, they have put the city into a virtual panic.
The Tehreek-e Taliban Pakistan (TTP) has reportedly claimed credit for the Lahore attacks, but the Lahore City Commissioner has claimed that India was actually behind them. The Pakistani government had also blamed India for a Lahore bombing earlier in the week against a spy agency building. India has denied the charges.
Meanwhile in the Swat Valley a suicide car bomber hit a security checkpoint this morning, killing another 14 people and wounding at least 52 others. Pakistan's military invaded the Swat Valley last year to uproot a tiny TTP faction that had taken up residence. Despite six months of all out war in the region and displacing millions of civilians, the valley remains a very dangerous place.