In the second major attack in the city in less than a week, a pair of suicide bombers attacked an army convoy in the Pakistani city of Lahore today, killing at least 57 people and leaving around 136 wounded. 10-12 of the slain were said to be soldiers.
Later in the day, five more were killed when a suicide car bomber attacked a Pakistani police checkpoint in the Swat Valley. A third bombing was also reported in Lahore in the evening, which though it caused no additional casualties created a lot of panic.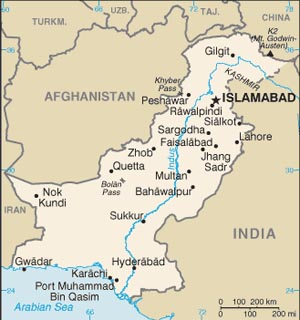 The Lahore attackers were said to have approached the convoy on foot with bombs strapped to their bodies. The heads of the suspects have been seized by officials, who say they also have two other suspects in custody.
The Tehreek-e Taliban Pakistan (TTP) claimed credit for the bombings, which forced hospitals in the area to declare a state of emergency. The attack also did serious damage to a business district which contained several security agency buildings.
On Monday a suicide car bomber hit an interrogation center belonging to Lahore's Special Intelligence Agency (SIA), killing 15 people and wounding 90 others. The TTP claimed credit for Monday's bombing as well.