There appears to be no small level of confusion among US officials over whether or not the indirect talks between the Israeli government and the Palestinian Authority are actually going to go through as planned.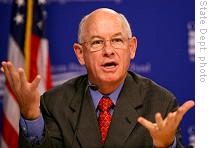 State Department spokesman PJ Crowley insisted today that "I don't think that report that's been circulating for the last 24 hours is accurate," adding "as far as I know, we are still moving forward."
But Palestinian Authority chief negotiator Saed Erekat was very direct in confirming the reports, saying that the PA has no intention of resuming peace talks unless Israel halted its East Jerusalem settlement expansion. Israel has already ruled this out, effectively making the talks dead on arrival.
Exactly why the United States State Department, which is expected to broker the talks, was not told of the PA's position is not clear, but with direct quotes from Erekat and the Arab League's Secretary General, it does not appear that this is simply inaccurate reporting, and the peace talks appears to be, at best, on life support.