Adding to the harsh rhetoric coming out of the nation is recent days, Israel's Deputy Foreign Minister Danny Ayalon today announced that the nation was giving the West another 4-8 weeks to attempt diplomacy with Iran, and that after that they would have to impose crippling sanctions on the nation.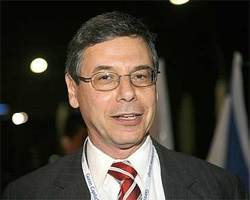 In his speech, Ayalon cautioned that Iran might try to inflate international oil prices to "sabotage" the sanctions against its petroleum industry, and urged China, a nation with economic interests in Iran, to seek alternative sources of energy in Saudi Arabia.
He urged international unity in the move against Iran's civilian nuclear program, adding that "Iran is a big and vulnerable country… calling their bluff is the only way." Israel has repeatedly threatened military strikes against Iran.
Israel's threats against Iran are not new, but the growing number of US official visits in recent days are seen as being at least in part based on fear that an Israeli attack could be in the offing.
Though the US has been pressing for the "crippling sanctions" demanded by Israel for quite some time, Chinese officials have repeatedly reiterated their opposition to further sanctions. Russia has also said it will only accept very limited sanctions, and will oppose the "crippling" sanctions sought by Western nations.