With seemingly endless calls for additional sanctions, unilateral trade embargoes, etc on Iran, officials are finally starting to wonder: what exactly does the US export to Iran. The GAO issued a report yesterday, in effect, saying they aren't entirely sure.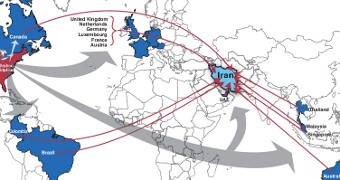 US exports to Iran, an estimated $282 million trade in 2009 that was largely agricultural in nature, are so poorly documented, according to the report, that it is almost impossible to ensure that the current sanctions are even being enforced.
House Democrats sought the GAO report in 2008 after a dramatic rise in the level of American trade to Iran. The export data, however, included items shipping to Iraq, Ireland, and Israel, and the reliability of what actually went to Iran wasn't so clear either.
In the end, the report urges better record keeping and more stringent licensing, but warns that Iran is still obtaining a lot of "dual use" items which would theoretically be banned from the United States by way of third party intermediaries.