Iran's Ambassador to the International Atomic Energy Agency (IAEA) Ali Ashgar Soltanieh today slammed the latest IAEA report from new Director General Amano Yukiya, insisting it was "not balanced and factual."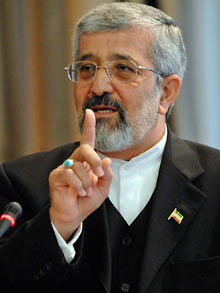 Soltanieh says the report, which has not been made public reopened a large number of "historical" issues which had already been closed, and mixed the assorted demands it placed on Iran irrespective of the nation's obligations under its Safeguards agreement, the Additional Protocol, and other demands not contained in either. This would, officials say, be a violation of IAEA rules about such reports, which say the director general's reports are supposed to reference relevant portions of the safeguards agreement.
Making matters worse, Soltanieh says the report made no reference to Iran's past responses to the already closed matters, including letters explaining the Iranian positions on the matters.
Soltanieh insists that Iran is "fully cooperating" with the IAEA and would continue to do so. He reiterated however that the nation won't do anything beyond its legal obligations under the safeguards agreement.