Dubai's police chief Khaifan Tamim today announced plans to seek an arrest warrant against Israeli Prime Minister Benjamin Netanyahu later in the week. Netanyahu will face charges of ordering the January assassination of a Hamas commander, Mahmoud al-Mabhouh, in a Dubai hotel.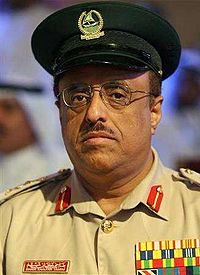 Last month when the investigation began Tamim warned he would seek Netanyahu's arrest once it was proven that Mossad, Israel's spy agency, was responsible for the killing. Mossad chief Meir Dagan will also face a warrant.
Since then, an ever growing amount of evidence has been amassed the world over, with Mossad accused of stealing passport data from Israeli citizens and forging overseas passports from a number of nations, including Britain, Ireland, Germany, Italy, and Australia. It is also reported that the suspects, 27 in all, used prepaid MasterCards issued by an American bank on the basis of fraudulent data.
As Dubai police continue to build their case, Tamim has asked the various Western nations involved to turn over the details of their assorted investigations. Several of those nations have summoned Israeli envoys to protest the use of forged passports from their nations in the killing.
Israel has refused to publicly comment on the assassination, insisting it takes an official stance of "ambiguity" on its overseas killings. Nevertheless, with evidence mounting Israeli officials are having a hard time convincing anyone that this whole case is built on the basis of anti-Israel sentiment.