Tehreek-e Taliban Pakistan (TTP) leader Hakimullah Mehsud has been "confirmed killed" several times by Pakistani officials in recent days, and US officials also reportedly believe this to be the case, though they are understandably gunshy about making this declaration public as it the seventh "confirmed" killing of the militant in just over six months as the leader of the group.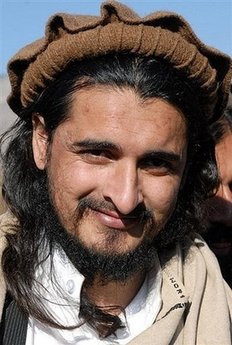 This confidence has taken another hit today, however, as the TTP have released a new video of Hakimullah. The video features some 43 minutes of interview with Hakimullah and an unseen interviewer.
The film is undated, however, and makes no specific mention of any recent events which would give a conclusive clue to when it was made. It does, however, mock the "media propaganda" about his death. That provides no real proof, of course, as it doesn't say which of his supposed deaths he is referencing.
After replacing Baitullah Mehsud as leader of the TTP in August, Hakimullah dramatically increased the extent to which the group launched attacks across Pakistan, and even struck a CIA base in Afghanistan. His high profile deaths and even higher profile resurrections into the public eye have given him an enormous reputation for a man who has only been the group's leader for six months.