Officials say that yesterday's North Waziristan drone strike may have resulted in the death of Qari Zafar, one of the top leaders of an "al-Qaeda styled" organization calling itself Takfiri.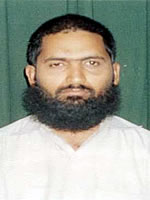 Zafar had a $5 million reward on his head and was wanted for questioning in connection to the 2002 bombing of the US Consulate in Karachi. Officials have said his group may have had direct connections to the Pakistani Taliban, to al-Qaeda, or possibly to both.
But perhaps Zafar's biggest claim to fame came in September 2008, when security agencies suggested he was behind the Marriott bombing in Islamabad, at the time referred to as "Pakistan's 9/11." The attack left 60 killed and 257 wounded.
It was unclear how officials were able to so quickly identify Zafar as slain in the drone strike, which destroyed a house in North Waziristan and killed nine people. If it is confirmed, however, it will stand as a rare incident when a drone managed to kill a noteworthy target.