With the prospect of yet another war with Israel fresh in the minds of the Lebanese people, Hezbollah leader Hassan Nasrallah today cautioned that they would retaliate against any attacks by Israel.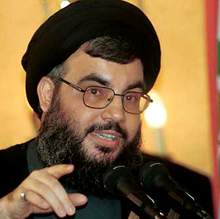 Hassan Nasrallah
"I say to the Israelis that if you bomb the Rafik Hariri Airport in Beirut we will bomb Tel Aviv's Ben Gurion airport," Nasrallah declared in today's speech. During the 2006 Israeli invasion of Lebanon, Israeli warplanes destroyed all three runways at the airport, leaving many civilians stranded in Lebanon for the duration of the hostilities.
Lebanese across the political spectrum are anticipating another Israeli invasion, fueled by comments by Israeli Minister Yossi Peled that the next attack on Lebanon was "only a matter of time." Lebanese Prime Minister Saad Hariri has expressed concern about the threats.
Hezbollah's MPs have even attempted to enlist the help of the French government, urging France to take a stand against the next Israeli invasion of the country. France has yet to comment on the request.