America's quiet military presence in Pakistan has come under renewed scrutiny today, following a high profile roadside bombing at the reopening ceremony of an all-girls school in the Swat Valley. The bomb leveled the school and killed nine people, including three US soldiers.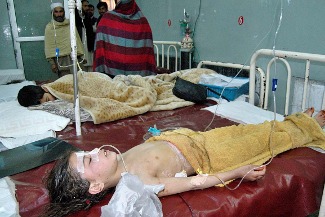 Hospitals in the district received 126 wounded people, many of them children from a nearby school. The attack overwhelmed the local hospitals. The local chapter of the Tehreek-e Taliban Pakistan (TTP) took credit for the attack, saying the US troops were the target.
Early attention on the attack was centered around the fact that the Pakistani Army has repeatedly declared "victory" in Swat Valley and said that the region was virtually cleared of militants, though the leadership largely remains at large. Initially, however, the paramilitary Frontier Corps (FC) insisted the US soldiers were "journalists," and when it was revealed they were soldiers, the questions grew.
Pakistani officials naturally condemned the TTP for the attack, and vowed that the "miscreants" would be brought to justice. The US Embassy said the soldiers were part of a small contingent (estimated at around 100 soldiers) in the country to train the FC.
But while the government focuses on the TTP, many are asking why the FC was bringing "US army trainers" to the opening of an all-girls school in Lower Dir in the first place.
The official response is that the US troops were there because US foreign aid was used to rebuild the school. Yet the US State Department has considerable staff in Pakistan, which would be more appropriate to send to a ceremony than troops that are supposed to be there for a very limited training operation. What's more if the TTP's claims that the soldiers were the reason for the attack prove accurate, there will inevitably be more questions about whether having the US troops in the nation is endangering civilians.