Reports say that the Justice Department's Fraud Section is investigating allegations made by former Blackwater Worldwide employees that the company attempted to bribe Iraqi officials.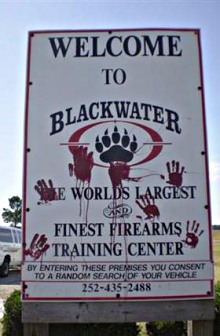 The allegations were made in November, when four former executives at the company confirmed that president Gary Jackson approved over $1 million in funding for bribes to Iraqi officials.
The attempted bribes were a response to a September 2007 massacre of Iraqi civilians in the city of Baghdad, an attempt to funnel money to Iraqi officials to prevent losing their license to operate in the nation. The executives confirmed the money was sent, but there was no record if the money was ever actually delivered to officials. Iraqi officials revoked the company's contract to operate in the nation in January 2009.
Reports also suggested that Blackwater provided around $800,000 in compensation to the families of the civilians they killed, with a former employee saying they hoped the compensation would calm government outrage over the killings.