At least 21 people were killed and scores wounded today when a suicide bomber destroyed the forensics department of the Iraqi Interior Minister in Central Baghdad. A large portion of the slain were said to be police, though many of the injured were civilians wounded when glass shattered at nearby restaurants.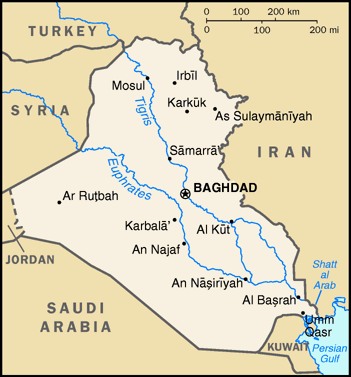 The attack was the fourth major suicide bombing in Baghdad in around 24 hours, as three coordinated attacks on Baghdad hotels yesterday killed at least 41 people and wounded well over 100.
So far no group has claimed responsibility for any of the bombings, but perhaps predictably the Iraqi government declared that the attacks were the work of the Ba'athists. On the other hand, US General Ray Odierno said the attacks seemed to be by al-Qaeda.
Whichever the case, the bombs have once again thrown serious doubt into the Iraqi government's ability to provide security even to some of its own security institutions, and raises concerns about the chances of violence as Iraq's March election nears.
Just two weeks ago the Iraqi government began a massive security crackdown, in response to an ever growing series of bombings in Baghdad. The crackdown was so severe that the government had to announce via state media that it was not a military coup, as panic was growing in the streets. Yet even these security measures appear to have been wholly unsuccessful in stopping a flurry of high profile bombings.