Despite a massive backlog of media reports and anonymous quotes from officials confirming Blackwater's presence in Pakistan, the government still felt comfortable openly lying about it. This should perhaps somewhat dampen the shock today when, despite official confirmation from the US government, Pakistan's government continued to stick to the lie.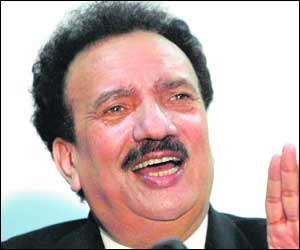 Pakistan's Interior Minister Rehman Malik today again insisted that there was "no evidence" Blackwater had ever been in the nation, and even claimed that US Secretary of Defense Robert Gates, who publicly confirmed Blackwater's presence, privately told Malik the quote was the result of a "conspiracy" by Pakistan's media.
Malik is perhaps in the most trouble of the Zardari government over the Blackwater revelation, having previously pledged to resign if it turned out Blackwater was operating in the country. Senate officials over the weekend formally demanded that resignation.
Malik's denial also runs contrary to comments by other Pakistani officials, including Information Minister Qamar Zamar Kaira, who insisted that they had never denied Blackwater's presence to begin with.
Despite the denials, redenials, and the denials of the denials, it was never really any mystery that Blackwater was operating in the nation, as reporters have confirmed the presence of contractors in Blackwater uniforms patrolling through the streets of Peshawar carrying assault rifles on a number of occasions. The forces were patrolling in front of a Blackwater base in Peshawar's University Town, with both base and contractors clearly marked as members of the US private security force.