Pakistani President Asif Ali Zardari is facing a renewed legal challenge to his continued rule tonight, after lawyers filed paperwork with the Election Commission of Pakistan challenging his eligibility for the office of president.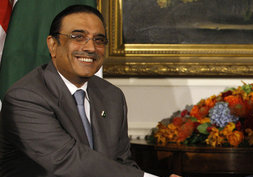 Last month the Pakistani Supreme Court declared the "National Reconciliation Ordinance" (NRO) signed into power by President Pervez Musharraf unconstitutional, and insisted that long-standing criminal charges against several members of the Zardari government could be restored.
Technically speaking, Zardari retains immunity as a sitting president, but without the NRO in place he would not have been eligible to run for the office in the first place, and opposition figures argue he should be declared retroactively ineligible. This would not only remove him from office but set the stage for prosecutions against him.
The Zardari government has pressured the Supreme Court to restore the NRO, and has also refused to implement the ruling pending challenges to it. This has led the Supreme Court to threaten to call in the army to enforce its ruling, leading to fear that it could result in a coup d'etat.
One of the key lawyers' organizations in Pakistan also called on Zardari today to abide by the elimination of the NRO, and threatened to organize countrywide strikes in protest. Zardari clashed with lawyers in March 2009, during the "Long March" which led to the restoration of the Supreme Court's chief justice.