Exit polls have showed that pro-Russian opposition leader and former Prime Minister Viktor Yanukovich has emerged victorious in the first round of voting in Ukraine's presidential election, setting the stage for a runoff vote with current Prime Minister Yulia Tymoshenko, who finished second.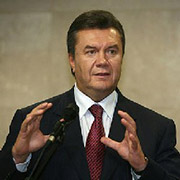 Many will remember Yanukovich as the initial victor in the fraud marred 2004 vote, sparking what has come to be known as the "Orange Revolution," a protest movement which forced a revote and set the stage for the country's pro-West trend in recent years.
Though Yanukovych is seen as more pro-Russian than his rival, and scored much higher among voters in the Russian-speaking east of the nation. He criticized incumbent President Viktor Yushchenko for alienating Ukraine's traditional allies and has cautioned against joining NATO hastily. Tymoshenko has also promised to repair ties with Russia, after years of bellicosity from Yushchenko.
Despite Yanukovych netting around 38 percent of the vote to Tymoshenko's 25 percent, the prime minister declared victory in this round of voting, insisting that Yanukovych would never be able to come up with the additional 12 percent of voters needed to win the runoff. Yushchenko reportedly scored less than six percent
in the vote.