Chinese opposition is expected to forestall any additional international pushes for sanctions against Iran, after Foreign Minister Yang Jiechi once again insisted that disputes should be solved through diplomatic negotiations.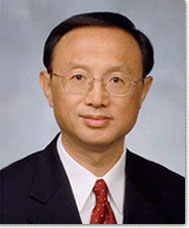 Yesterday's P5+1 meeting, aimed chiefly at discussing the Iran dispute, ended in failure, with officials calling the meeting "inconclusive" and both China and Russia seen as pressing for continued diplomacy.
Both China and Russia have traditionally been less supportive of sanctions against Iran than the Western members of the UN Security Council. Though officials have expressed hope that Russia could be brought on board, it is China that has been unwilling to move forward with the sanctions.
Iran is under pressure to abandon its civilian nuclear program, or to embrace an IAEA draft agreement for third party enrichment. Iran has called for additional talks on the third party enrichment scheme, but has ruled out abandoning the program, insisting that there is no legal basis for blocking it. The IAEA has been inspecting Iran's nuclear program and has repeatedly certified that none of its uranium is being diverted to any unapproved use.