As the Pakistani military feverishly struggles to get some sort of confirmation of exactly what, if anything, happened to Hakimullah Mehsud yesterday in a US drone strike against a house in Pasalkot village, the Tehreek-e Taliban Pakistan (TTP) seems to be having trouble keeping its story straight.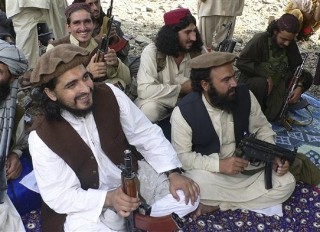 After yesterday's flat denial that Hakimullah was even at the site of the drone attack, which killed 18, unnamed TTP members have reportedly told the Pakistani media that Hakimullah was at the site, and that the hit even destroyed his car.
The source said that Hakimullah injured his head in the strike, but that he had been taken for treatment to an undisclosed site and was now "out of danger." Last night officials claimed to be "80 percent certain" that Hakimullah was slain.
But TTP spokesman Azam Tariq flatly denied the reports were accurate, insisting that the claims of confirmed injuries were "propaganda" and insisting, as yesterday, that Hakimullah had already left the village before the US attack.
Intrigue over these targeted killings is nothing new, and last August it took weeks to verify the death of Hakimullah's predecessor Baitullah Mehsud. At the same time it can't be forgotten that this is the fifth time since August that officials have been pretty sure they or someone else killed Hakimullah, and his ability to emerge unscathed from such attacks is reaching near legendary proportions.