Turkish officials are seething today after a meeting between Turkish Ambassador to Israel Ahmet Oguz Ceikkol and members of the Israeli Foreign Ministry turned into what may well be the most farcical situation in Israeli politics since Yisrael Beiteinu, a party openly against peace through diplomacy, was given charge of Israel's foreign ministry last year.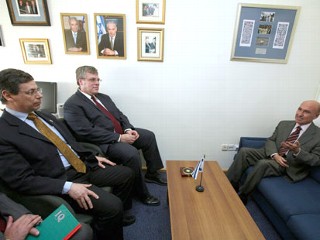 One Turkish official mocked Israel's top two diplomats as "adolescent youths" after they staged a public photo-op apparently meant to belittle Ambassador Ceikkol.
Deputy Foreign Minister Danny Ayalon seemed to confirm the reason for the photo-op, noting to camera men "pay attention that he is sitting in the lower chair and we are in the higher ones, that there is only an Israeli flag on the table and that we are not smiling."
Even other members of Israel's right-wing government seemed nonplussed by the move, with Minister Binyamin Ben-Eliezer condemning the move, insisting "respect for Israel is not judged by how you humiliate an ambassador."
The whole reason for the meeting itself appears to have been incredibly trivial, considering the diplomatic ramifications it could have with one of Israel's few allies in the Middle East. Officials from the foreign ministry reportedly declared that they were "furious" that Turkey allowed a new action-drama series to be broadcast on a private Turkish television station which had an episode portraying Israeli secret agents as kidnappers.
Turkey's Foreign Ministry has also summoned Israel's ambassador in retaliation for the diplomatic slights. No word yet if they will attempt to orchestrate a counter-photo-op.