Throwing a wrench into Obama Administration plans to move forward with new sanctions against Iran this month, the Chinese government has announced that there will be no debate on Iran sanctions at the UN Security Council in the month of January. China currently holds the council presidency, and can block such debate.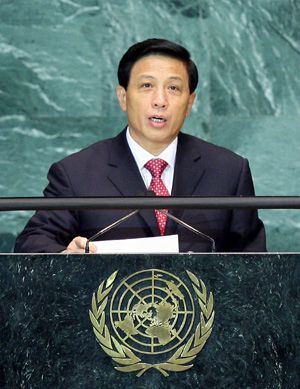 Instead, China's Ambassador Zhang Yesui insisted that diplomats should dedicate "more time and patience" to the process and try to come to a mutual agreeable result. Ambassador Zhang said "this is not the right time or moment for sanctions."
US officials had set a January 1 deadline for Iran to agree to P5+1 demands or face additional sanctions, and had already gotten Russian approval for the move. China, however, can use its veto power to block such sanctions essentially indefinitely.
Iran had been negotiating with the P5+1 on an agreement to enrich Iran's uranium in a third party nation for use in its medical isotope reactor. Tentative drafts had been reached, but Western nations balked at Iran's call to hold additional talks and demanded instead that Iran accept the draft as written without any additional dialogue. Despite this, the US insists that it remains open to talks with Iran.