Another US drone flattened a house near Miramshah in the North Waziristan Agency today, killing the five people inside. The attack was the third strike in the immediate area in the past few days.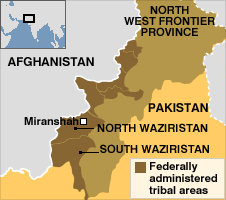 Pakistani intelligence officials, as usual, declared the site a "militant hideout" and touted the strike as having killed "five militants." Such claims are usually the end of any investigation into the identities of the victims of a US strike.
But unofficially, the government is acknowledging that two of the victims are a schoolteacher and his nine year old son, whose home was the target of the attack. The other three have not been identified.
Recent reports suggested that in 2009, the vast majority of those slain in the US drone strikes, over 700 people, were innocent civilians. Pakistan's government has tried to write off everyone slain as a militant or a suspect, but when they are declaring a nine year old child a "militant" simply on the basis that the US killed him, their own credibility is increasingly at stake.