The Taliban released a video today showing an apparently unharmed Pfc. Bowe Bergdahl, the Sun Valley, Idaho soldier captured in Afghanistan in late June.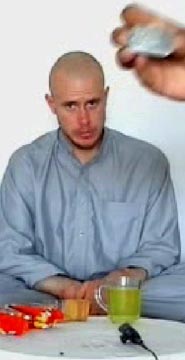 In the video, the soldier sharply criticized the Afghan War, likening it to Vietnam and urging the American public to "stand up and stop all this nonsense." The video is the first sign of Bergdahl since a mid-July video.
Bergdahl's family issued a statement by way of the Idaho National Guard, calling for the release of their only son and urging him to "stay strong" while he remains the only US soldier currently in captivity in Afghanistan.
Bergdahl's capture was something of a news story in early July, and the soldier was condemned as a traitor by some pundits, who accused him of deserting his post and aiding the enemy.
US officials condemned the release of the video as an outrage, declaring that it was an affront to Islam to do so. Still, while the release of the video was doubtless for the Taliban's own benefit by way of propaganda, it at the very least gives Pfc. Bergdahl's family a measure of assurance that he is apparently alive and unharmed.