In another serious blow to the Zardari government's continued tenability, an anti-corruption court has issued arrest warrants for Interior Minister Rehman Malik, ordering him to answer to charges of embezzlement and other financial irregularities to the tune of 22 billion rupees (about US$150 million).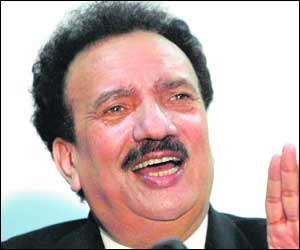 Malik downplayed the news, insisting that he is already out on bail and is ready to appear in court whenever they order him. He claims the charges against him are fabricated to compel him to testify against President Zardari, who faces accusations of stealing over $1 billion during his tenure in government.
The latest story comes less than 24 hours after Defense Minister Ahmed Mukhtar was prevented from making a state visit to China. Police informed Mukhtar that he is one of nearly 300 top officials the courts have ordered not to leave the country pending the resumption of criminal charges against them.
Prime Minister Yousef Raza Gilani, one of the few members of the ruling party not under immediate threat of indictment, called Mukhtar's control order a national disgrace, and wondered how the government could even hypothetically arrest Malik, as he is the nation's top law enforcement officer.
Gilani added that the charges against President Zardari shouldn't mean anything, as he already spent 12 years in prison on an assortment of other charges and none of the current charges carry a longer sentence than that.