The sleepy village of Thomson, Illinois, which has dubbed itself the "Melon Capital of the World," will also be the "Men held by the US Government Without Charges Capital of the World" following the announcement that the detention center at Guantanamo Bay, if and when it ever actually closes, will be relocated to the village's maximum security prison.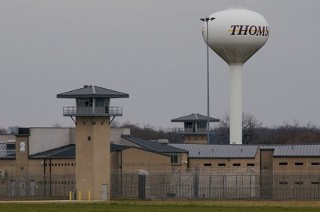 State officials greeted the announcement with no small measure of hope, anticipating that the housing of foreign detainees would provide considerably more jobs for the village's 500-odd residents than either the septic tank service or the bait shop ever could.
Opposition leader John Boehner (R-OH) slammed the move, saying that it would endanger the people of Illinois. The White House condemned the comments as "crazy" and noted that al-Qaeda had been using Gitmo in recruiting videos for years.
Which is true, but if the whole operation is just transplanted to Illinois and detainees continue to be held on flimsy evidence without legal recourse or formal charges, al-Qaeda will probably be able to dub over "Guantanamo Bay" in favor of "Thomson Illinois," with little effort, they even have the same number of syllables.
Thomson residents seem hopeful that the facility will be an economic godsend, but how many jobs it will provide and when (indeed if) the administration ever actually follows through with its promise to close the Guantanamo facility remain to be seen.