At least 33 people were killed today and over 90 wounded when a car bomb was detonated in the Khosa Market in Dera Ghazi Khan. Dozens of the wounded are in critical condition and officials expect the final toll will continue to rise.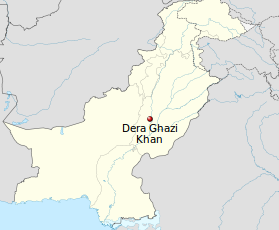 The bombing targeted the home of a key government minister in the Punjab Province. The minister was not home but his cousin and some relatives were wounded.
In addition to collapsing the minister's house, the bomb also did serious damage to 10 other nearby stores and a mosque. So far no group has claimed credit for the blast.
But Prime Minister Yousef Raza Gilani declared those responsible "enemies of the state" and said the government would be responsible for protecting the lives of the populace. Since this is just the latest in an alarming number of bombings since the South Waziristan offensive began, the government's ability to do so is in serious doubt, however.