Speaking at a press conference during his unannounced visit to Kabul, Secretary of Defense Robert Gates assured that the US would remain in Afghanistan for "several years," expressing hope that a gradual change in the troops' role to supporting the Afghan military could begin in "three years or two years or four years."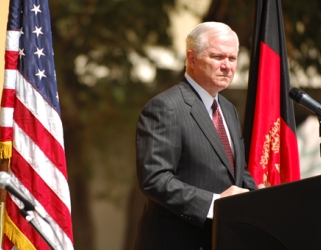 Even then the US is looking at bankrolling the Afghan military for decades, Gates conceded. The nation's security forces have been grown to such an unweildy size that the small, impoverished nation will not be able to sustain it themselves for decades, if ever.
But if Gates' timetable is spanning decades, Gen. Stanley McChrystal's is surprisingly short. The general predicts that there will be "significant progress" by next December, and that by July 2011, it will be "unequivocally clear" that the US is winning.
McChrystal's optimism comes in spite of previous predictions during the last several escalations that quick progress would be made, progress which never materialized as the war got worse and worse.
It does however underscore the disconnect between comments made by officials meant for domestic consumption (Gen. McChrystal testifying in Congress) and comments made on the international scene.