It is hardly a secret that as the Pakistani military plays up its dramatic victory in South Waziristan Agency, they have little to show for it. The troops stormed the region, captured a handful of villages, and found not a single Tehreek-e Taliban Pakistan (TTP) leader.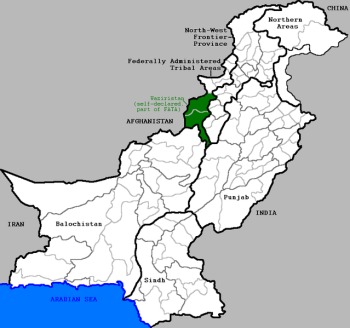 But where did the TTP go? It's unclear. The military has expanded its offensive through most of the Federally Administered Tribal Areas (FATA), and reports have some of the militants cropping up in places like Orakzai and Kurram.
But they're still not finding any leaders and the group's ability to orchestrate attacks across Pakistan seems virtually unaffected by the Waziristan offensive. There's no clue where they are, but officials are pretty confident it isn't North Waziristan, even though the government has said that's going to be their next target for invasion.
While the military seems content for now with touting its success in capturing largely irrelevant villages along the Afghan border, villages they have no intention of remaining in past the offensive, it will be almost impossible for them to declare any serious victory if the TTP's leadership remains at large.