Villagers across the Kurram and Orakzai Agencies of Pakistan's Federally Administered Tribal Areas (FATA) are reporting a massive influx of Tehreek-e Taliban Pakistan (TTP) militants setting up checkpoints and patrols in their villages.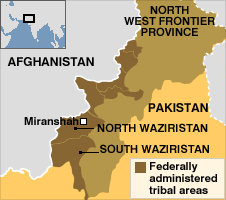 The militants are evidently from the South Waziristan Agency, which they left following the Pakistani military's invasion.
Such a possibility had been feared as a reason why the Pakistani military has been increasing attacks in the areas outside South Waziristan, and has yet to capture a single high profile TTP leader in its offensive.
In spite of this, the military continues to maintain that the attack on South Waziristan is going exceedingly well, and officials say that even if the TTP relocates outside of the agency they will be too disorganized to be any serious threat. While this may be the case from the government's perspective, the offensive seems to just be exporting South Waziristan's problems to the rest of FATA.