German Army chief General Wolfgang Schneiderhan has formally asked to be relieved of duty today following the release of images from the US warplane involved in the September Kunduz air strike showed that German officials were lying about situation leading up to the attack.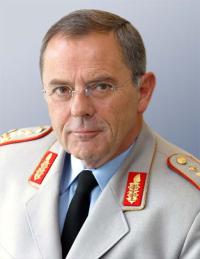 Gen. Schneiderhan
The photographs, released by the nation's Bild newspaper, show large numbers of civilians at the site of the German-ordered attacked and disproved repeated claims from officials as high ranking as former Defense Minister Franz Jung that there was no evidence of civilian deaths.
Gen. Schneiderhan sought the resignation and took responsibility for not bringing the facts to the attention of German officials, but a junior member of the defense ministry was also ousted over the revelation, a growing embarrassment to the German government.
The attack killed over 100 people, most of them civilians, and NATO reports suggested that the German colonel who ordered the attack overstepped his authority. Gen. Schneiderhan had vigorously defended the attack.
Beyond the usual concerns over a massive civilian death toll, the German role in the attack brought uncomfortable attention to the conflict in Germany, whose constitution forbids foreign military engagements. The government had repeatedly insisted that the Afghan War isn't technically a war, a claim that is being greeted with increasing incredulity among a war-weary population.