According to NATO spokesman James Appathurai, the alliance's Secretary General Anders Fogh Rasmussen is engaged in intense negotiations with several allied nations to pressure them to commit more troops for the Afghan War.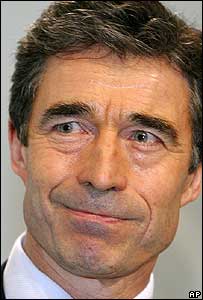 Rasmussen is reportedly pressing for the nations to agree to send the "maximum possible" forces, at a time when the increasing unpopularity of the war has many nations looking to scale back in the nation.
Though Rasmussen and British Prime Minister Gordon Brown have both been attempting to shore up European support for the war for quite some time, NATO has said they don't want to make their decisions until after the Obama Administration announces its own escalation.
The next NATO meeting is December 3-4, and this would seem to be the likely time to discuss the Afghan escalation. But President Obama may not be ready to announce his escalation yet, and that might force NATO to either move first or delay yet again.