In the second such attack in two days, a US drone fired missiles at a suspected hideout in the village of Palooseen, North Waziristan, killing at least eight people and wounding an unknown number of others.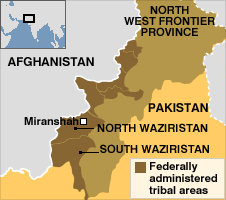 Such drone attacks have been common since last year, but have increased in pace and intensity since President Obama took office. Publicly the Pakistani government makes it a point to condemn the attacks, though it has been repeatedly confirmed that they have agreements with the US and are even in consultation about the targets attacked.
The drone attacks inside Pakistan are almost exclusively the purview of the CIA, and today's strike comes as CIA director Leon Panetta is visiting Pakistan. Panetta reportedly spoke with Pakistani Prime Minister Yousef Raza Gilani about Afghan strategy, but it was not clear if the drone strikes were discussed.
Today's attack appears to have killed only militants, but the drones have in general taken a large toll on civilians, sparking outrage from the Pakistani public. The US has shrugged off the large number of civilians killed, with Secretary of State Hillary Clinton insisting "there's a war going on."