Dozens of angry Pakistanis in the North-West Frontier Province's Hangu district staged protests along the main highway today, condemning the Pakistani Army's attack that left at least six civilians dead.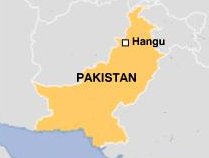 According to police, the army fired an artillery shell at a suspected militant hide-out in the town of Shahu Khel, but instead killed a family of six, including three women, two children and a man.
The protesters staged a sit-in and placed the bodies outside of the office of the "district coordination officer" as part of the protest. They also chanted "stop the killing of innocent people." The government has not officially commented on the killings.
The military has been conducting offensives against the region recently, and earlier this month blamed the Tehreek-e Taliban Pakistan (TTP) for destroying an entire village. It is just one of many offensives going on in Pakistan right now.